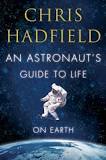 All I can think of is those astonishing photos from the ISS (
International Space Station
). Seems I clicked "like" immediately on visuals posted by
Col. Chris Hadfield
while he was up there. I watched his YouTube videos, singing with kids, giving science lessons and patiently answering for the hundredth time how astronauts use the bathroom in a weightless environment. (That question must get SO old!)
Space Oddity
is bookmarked because I listen to it whenever I need an attitude adjustment. It always works. There is something about music delivered by a floating guitarist while the earth passes by the window that just stirs my imagination, adjusts my focus and makes my heart happy.
Same can be said for reading An Astronaut's Guide to Life on Earth: What Going to Space Taught Me About Ingenuity, Determination, and Being Prepared for Anything by - you guessed it! - Chris Hadfield. He is a surprisingly modest person, incredibly focused and determined. He says the same about his wife, to whom he gives plenty of credit for his career as an astronaut.
When in my life have I ever raced outside to see a celestial body pass by? (Now - I subscribe to Spot The Station - which tracks the ISS!)
Why did I find the astronaut evaluation process interesting?
What is it about space travel that reels me in?
And just maybe it was Col. Chris Hadfield's frequent Facebook posts (with great photos!) while he was on the ISS that ignited this fascination within me. My friends know I am a hopeless Trekkie, and I've never missed seeing a Star Wars release in the theater.  YouTube is full of astronauts now, and I always have to look. Even the
book promos
are funny.
Hadfield's book is chock full of his self-depreciating humor, his "don't-do-what-I-did" way of helping adjust a viewpoint and his hard-won ability to encourage those around him. I was encouraged just holding his book in my hands. To be my best self. To work toward my dreams and make them reality. To trust the good and be ready for the worst at the same time. You might be surprised. This book is an enjoyable read.
Trying to remember the original 1972 Space Oddity by David Bowe? Click here for a refresh.